Art therapy workshop in Kurdistan trains social workers to help kids, survivors of trauma
Engaging in a creative process can help people face trauma, distress or negative feelings.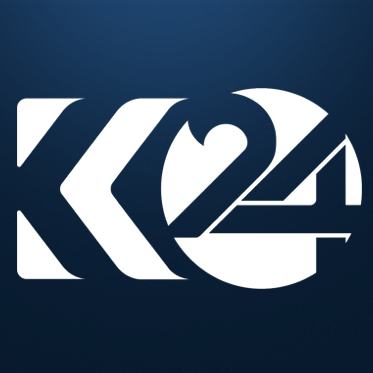 Ari Khalidi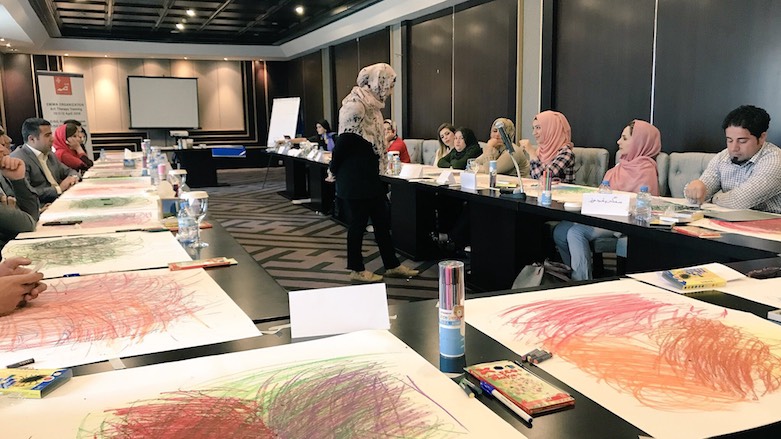 ERBIL (Kurdistan 24) – A Kurdish NGO focusing on women's empowerment held a three-day workshop this week in the Kurdistan Region's capital of Erbil for social workers and teachers to teach them about art as a means of therapy.
Bayen Rasul Galaly, a psychiatrist by profession and co-founder of the Emma organization, said by providing training in art therapy she hoped to provide a tool that was not available enough in Kurdistan.
"Most of the people cannot healthily reflect on their traumas or emotional state," Galaly told Kurdistan 24 during a break from the second day of the workshop in which some 30 people, men and women, participated in on Wednesday.
She argued that engaging in a creative process can help people face trauma, distress, or negative feelings.
Her NGO is a non-profit NGO founded in 2013 with the aim of empowering women in the social and political scene, promoting gender equality, rehabilitation of Ezidis and other minority survivors rescued from the Islamic State (IS), fighting gender-based violence, and the eradication of female genital mutilation.
The organization regularly works with survivors of IS, mostly Ezidi and other minority women who were kidnapped and sexually enslaved by the militants.
Galaly recounted her experience with an Ezidi woman who drew red tears streaming down from eyes.
For the woman, it was a representation of the ordeal she went through. Thus, others could understand her pain and sadness better, Galaly explained.
Another captive of IS drew her long nails.
"[They] were my weapon. When I was there, I defended myself with my nails," the woman told Galaly.
About the objective of the training in Erbil, Rejna Alaaldin, a lawyer in the region and the program manager for this training, said they were aiming to enable teachers and social workers with skills to reach out to students.
"Some children may not be able to express themselves using words and it is essential that every child is given the opportunity to fully communicate their feelings and thoughts" Alaaldin stated.
"Art therapy is known to reduce anxiety and anger," she explained, adding it was a way of gaining insight into student's emotions for social workers.
"Even highly intellectual people, academics; when you ask them to describe how they are feeling they usually tell you how they are thinking rather than expressing their emotions—because they can't find the right words for their emotional state. When you ask them to draw something, for example from a period of time in their life, they can then start describing the images which further helps express emotions and develop communication skills."
Social worker Siwan Tahsin of the local Halgurd Boys' Primary School said he was sure his participation in the training and the experience first-hand was to prove useful.
"Until now, I did not know students could be better understood through their drawings," Tahsin said.
"I myself benefited a lot. I can now practice this at home. I want to know what my son or my daughter keep in their inner world. It could be something they are too shy to tell me in words," he said.
Laja Mohammed, another social worker at a mixed high school in Erbil, said the concept was something completely new for her.
"Our society is a closed, patriarchal one. People refrain from fully engaging with us. I, as a worker in this field—I need them to open up. This training is quite helpful," she said.
Hawara Nawzad, a lecturer at the Clinical Psychology Department of Koya University in Erbil Province and part-time therapist for Emma, told Kurdistan 24 she was showing the attendees how to conduct art therapy with their students or clients.
"This is really important. We have to know how to assist people going through emotional distress whatever the various reasons behind are. Negative feelings when they build up can turn into emotional disorders," Nawzad said, noting that most of the people tended to avoid facing their problems.
Such techniques of facing negativity can be utilized in groups or individually, Nawzad said, adding she personally uses it as a means of self-care.
"Art therapy gives them a chance to produce something and feel proud of it. While doing so, they concentrate on something now and not in the past. They feel they are here and now," she said.
Editing by Karzan Sulaivany