Serok Barzanî behsa çend hûrgiliyên berî rûxana rejîma Beis dike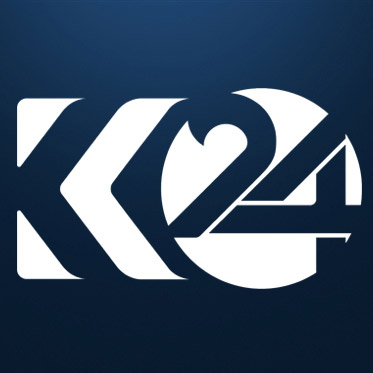 Kurdistan24 Hewlêr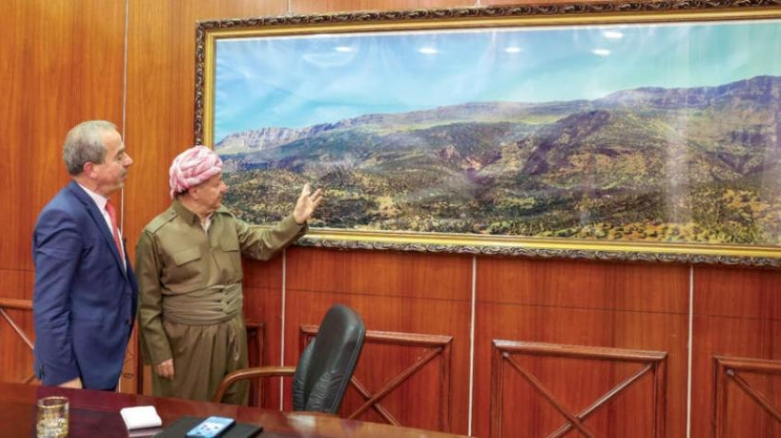 Navenda Nûçeyan (K24) – Serok Mesûd Barzanî di sala 2002an de pêşwazî li şandeke CIA ya Amerîkî kir, şandeyê jî jê re got ku Amerîka biryara têkbirina rejîma Seddam Husên daye, êrîş dê ji çendîn mihweran ve be û rola Herêmê jî gelekî girîng e.
Serok Mesûd Barzanî di hevpeyvînekê de ligel rojnameya "El-Şerq El-Ewset" ku îro yekşemê hatiye belavkirin, tê de behsa hin hûrgiliyên berî rûxandina rêjîma berê yê Iraqê bi serokatiya Seddam Husên dike.
Rojnameyê aşkere kir: Di Nîsana 2002an de şandeke Wezareta Derve ya Amerîka bi serokatiya Alîkarê Wezîrê Derve Ryan Crocker serdana Serok Barzanî kir û helwesta Amerîka li hember rejîma Sedam jê re aşkere kir. Şanedeyê her wiha pêşniyar kir ku Serok Barzanî roja 14ê heman mehê ligel Mam Celal serdana Washingtonê bike. Şandeyê jî tekezî li ser giringiya birêxistinkirina navmala Kurdî de kir.
Barzanî di bersiva xwe de gotiye: "Kurd piştgîriya her proseyeke dike ku armanca wê avakirina Iraqeke demokratîk, federal û piralî be. Em ji Amerîka daxwaz dikin ku garantî bide ku paşeroja gelê me dê were parastin. Washington jî dikare welatên cîran agahdar bike ku em ti gef û metirsiyê li ser ti kes û aliyekî dirust nakin."
Roja 15ê Nîsanê Serok Mesûd Barzanî ligel Mesrûr Barzanî û Hoşyar Zêbarî li firokexaneya Frankfurt a Almanyayê li firokeyeke taybet siwar bûn û berê xwe dan Amerîka. Şanda Kurdî bi gihîştina Mam Celal Talebanî, kurê wî Bafel û Berhem Salih, li mêvanxaneyekê li Virginia kom bû. Ji aliyê Amerîkî ve jî, Cîgirê Serokê CIA McLoughlin, ji Ajansa Asayişa Neteweyî General Wayne Downing û ji Wezareta Derve Ryan Crocker beşdarî civînê bûn. Ev jî tê wê wateyê ku di civînê de bi amadebûn û hevrêziya Koşka Spî, îstixbarat û karûbarên derve hatiye kirin.
Di civînê de Aliyê Amerîkî diyar kir ku biryara rûxandina Seddam hatiye girtin û veger ji vê yekê nemaye. Gotinên eşkere yên wekî "Amerîka biryar da ku divê Saddam ji desthilatê bê rakirin" û "divê Kurd hemû mafên xwe bi dest bixin", "Amerîka razî ye ku sîstema federalî li Iraqê bipejirîne" û "Amerîka rê nade ti destêwerdaneke derve" û "hêviyeke mezin a Amerîka bi rola Kurdan di komkirin û amadekirina opozîsyona Iraqê de heye" bikar anîn.
Bersiva şanda Kurdî jî wiha bû: "Heta ku alternatîva rejîma Iraqê, alternatîveke demokratîk be û federalî ji bo Kurdistanê were pesendkirin, em ê bi hemû hêza xwe alîkariya vê armancê bikin Em ê her tiştê ku ji destê me bê em ê bikin û soz didin ku ji bo yekbûna opozîsyonê gavan bavêjin."
Rojname dibêje: "Di wê şevê de, Mesûd Barzanî serederiya bi êş ên hêzên mezin û hin welatên herêmê re bi bîr anî. Ew rola ku Wezîrê Derve yê berê yê Amerîka Henry Kissinger di razîkirina Şah Mihemed Riza Pehlewî de lîstiye ku di sala 1975an de bi Seddam Husên re peymana Cezayîrê îmze kiriye, ji bîr nake ku li gorî wê peymanê, Îranê hemû piştgirî ji şoreşa Kurdî re rawestand û şoreş rastî hilweşîneke mezin hatibû. Her wiha ew jî ji bîr nake ku Yekîtîya Sovyêtê ku alîkarîya netewa Kurdên îraqê dikir, lê piştî ku Bexdayê di sala 1972an de bi Moskoyê re "Peymana Dostanî û Hevkarîyê" îmze kir, ji wan dûr ket."
Di 18 Nîsan de, ew firokeya taybet şanda Kurdî vegerand Frankfurtê. Serok Barzanî di vê derbarê de dibêje: "Li wî bajarî, min û Mam Celal li ser wê yekê li hev kir ku em hemû hewlên xwe bidin û hemû amadekariyên pêwîst ji bo guncandina bi pêşhat û guhertinên çaverêkirî re bikin."
Ji Frankfurtê Serok Mesûd Barzanî û şanda pê re ber bi Parîsê ve bi rê ketin. Berpirsên Fransî jî piştrast bûn ku Amerîka biryara dawî ya hilweşandina Saddam Husên girtiye. Ji ber vê yekê pirsên wan li ser alternatîfê bûn. Serok Mesûd Barzanî dubare kir ku alternatîv dê bi şêwirîna ligel aliyên opozisyona Iraqê pêk were û divê sîstema dahatî jî demokratîk û federal be û mafên pêkhateyên cuda garantî bike.