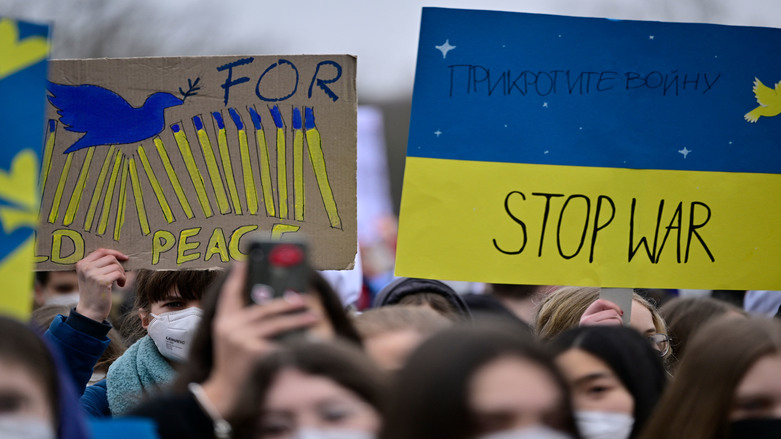 The ongoing conflict between Russia and Ukraine, which the Ukrainians describe as an 'invasion' while the Russian media calls it an 'operation', will inevitably have long-term effects worldwide.
While Russian and Ukrainian people have many cultural, linguistic, and historical commonalities and ancestral ties, the conflict demonstrates how even the closest of brothers and sisters may enter into what was thought to be inconceivable; an open inter-state conflict in Europe between two sovereign states for the first time since World War II.
The Ukraine and Russia case suggest how the historical 'nationalism' could be problematic, as Ukraine has been a sovereign and independent nation since 1991. While the world is following how events between these fighting brotherly nations will unfold in the following days, the consequences will have a global impact on energy and food prices.
Ukraine is one of the most important exporters of grains and vegetable oils, notably sunflower seed oil. Russia is one of the main hydrocarbons exporters to the world, with rich deposits of oil, natural gas, and coal.
Ukraine also is a major coal exporter. Due to the logistical difficulties and the sanctions imposed on Russian banks and businesses, there will inevitably be delays and complications in trade. With Ukraine, the trade will significantly slow down as the country is a theatre for one of the fiercest military clashes in mainland Europe in the new millennium. Although the option of removing Russia from SWIFT (the financial messaging system used by banks and financial institutions) has not yet been activated, it is still on the table.
Ironically, many countries in Europe and the Middle East, notably Germany, Turkey, and Israel, have significant economic interests with both Russia and Ukraine and are trying to balance the situation as much as possible. The 'interdependent' economic relations these countries have with both Ukraine and Russia make it difficult for them to sever ties with either.
As President Erdogan had mentioned before the outbreak of clashes, Turkey could neither turn its back to Ukraine nor Russia. Energy resources trade with Russia is the main factor, notably natural gas, for Turkey and Germany. However, in theory, economic interdependence is supposed to contribute to peace. In this case, we can simply observe the 'absence of conflict.'
The crisis in Ukraine also heightened global risks for energy security and food security, which is especially relevant for what could be accomplished in the Middle East and Eastern Mediterranean. Energy efficiency and developing alternative resources (both from different suppliers, different routes, and different types of fuels) are the type of diversification that would be key to avoiding the consequences of future crises wherever they may occur.
In that respect, the importance of cooperation on alternative natural gas supplies seems to be of utmost importance for Europe. Potential cooperation in transporting gas either as liquefied natural gas – LNG or through existing pipelines such as the Trans-Anatolian Pipeline (TANAP) and the Trans-Adriatic Pipeline (TAP) present opportunities for cooperation between Turkey and Iraq, and particularly with the Kurdish Regional Government, in developing more inflow of petroleum and natural gas from Iraqi Kurdistan Region through Turkey towards Europe.
In the same respect, this would also create opportunities to develop further cooperation between the brotherly nations of Turkey and Azerbaijan, but also between Turkey and brotherly Iraqi Kurdistan Region, where there are many Turkish citizens who have friends, family, and relatives in Iraq, whether they are Turkish, Kurdish, Arab, Ezidi, or Turkoman and many more.
This will be an opportunity to develop relations between Azerbaijan and Iraq. By the same token, Turkish and Azerbaijani infrastructure through Iraq can be extended towards Gulf countries such as Kuwait, Saudi Arabia, Qatar, and the United Arab Emirates. In the Eastern Mediterranean, Turkey's cooperation and networks can be used to tie together Greece, Egypt, Israel, and Cyprus.
Turkey will, therefore, have the role of a key hub delivering all these sources from different routes. Turkey itself has a continuously growing population, especially with migrants from Syria and Iraq, and thus a role of being the common denominator tying all these different states and nationalities together. This will also allow Turkey to once again focus on economic cooperation as the primary item on its Middle East and foreign policy agenda, which will help overcome economic recessions. But Turkey can use this opportunity to spread newly energized seeds of peace to extend a network of prosperity and stability across a broader region.
Inevitably the next generations in all these regions would be the beneficiaries of endured sustainable peace and prosperity.
Besides the immediate cooperation on natural gas, there are opportunities for long-term cooperation, which are as strategic and crucial as the former. While energy resources, both in the form of natural gas and developing alternatives, are key for broader energy security, energy efficiency is often overlooked but is just as important. For instance, Iran has one of the most inefficient energy systems in the world, and a considerable portion of its energy is absorbed inefficiently by domestic needs, which results in mid-winter energy cuts to neighboring countries, in turn tarnishing Iran's credibility as a reliable supplier.
Part of the energy efficiency would be to follow a path towards developing green transition and renewables and better agricultural practices to truly become 'circular economies' where there are few emissions and high efficiencies. Turkey, yet again, under the EU Green Deal, is supposed to realize its energy transition into a green economy and can actually reflect and share experiences with a broader region.
Finally, as part of the energy and environmental issues, especially in water-scarce regions like the Middle East and North Africa, the interrelated management of Water, Energy and Food (often termed the Water-Energy-Food or WEF Nexus) need to become issues of cooperation rather than contestation.
Although water management has at times been an issue between Türkiye and Iraq, recent projects such as the Ilısu Dam, which do not divert water for agriculture but keep excess water in the reservoir to prevent flash floods that are detrimental and causing erosion. But more importantly, the efficient use of water (an issue in which Israeli companies have world-class expertise) and the choice of suitable crops for good agricultural practices have the true potential for the 'energized seeds of peace.'
If the entire region that collaborates on delivering alternative natural gas networks from the Caspian, Eastern Mediterranean, Iraq, and the Gulf also collaborate on energy efficiency, water efficiency as well as agriculture, then water and food security can also be addressed alongside energy security. As feared with the Russia-Ukraine crisis, the other issue of great potential shortage across the world concerns the supply of grains, vegetable oils, and foodstuff. These are all items that can be produced in Turkey and Mesopotamia (or the Fertile Crescent).
Driven by energy as an immediate need, the opportunity to further collaborate on efficiencies in agriculture as well as water and other environmental issues would provide a great leap across the region. As these types of cooperation require the involvement of smaller communities (potentially becoming agricultural citizens cooperatives), the vested interest in sustaining peaceful relations in the region would be shared not only among political elites but across the communities and societies in the region.
This would provide opportunities not only for Turkey but equally important prospects for Azerbaijan (where there are many cultural and historical similarities with Turkey), and with Iraqi Kurdistan Region (where there are equally many cultural and historical similarities, with many families and relatives across borders).
Regions with greater prosperity would likely lead to greater stability and sustained peace. As seen with Ukraine and Russia, the other alternative would be brothers at war, which is only harming the citizens and future generations.
The views expressed in this article are those of the author and do not necessarily reflect the views of Kurdistan 24.