German YPG flag ban continues despite Kurdish fight against Islamic state
Until now, some German states still harass or prosecute German citizens for posting the YPG flag on social media or waving it during protests.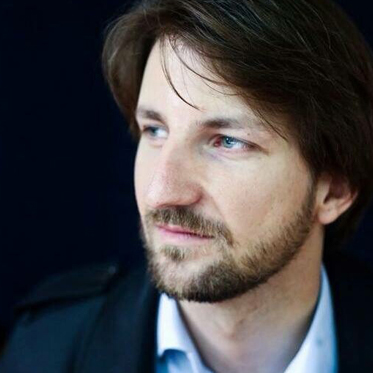 Wladimir van Wilgenburg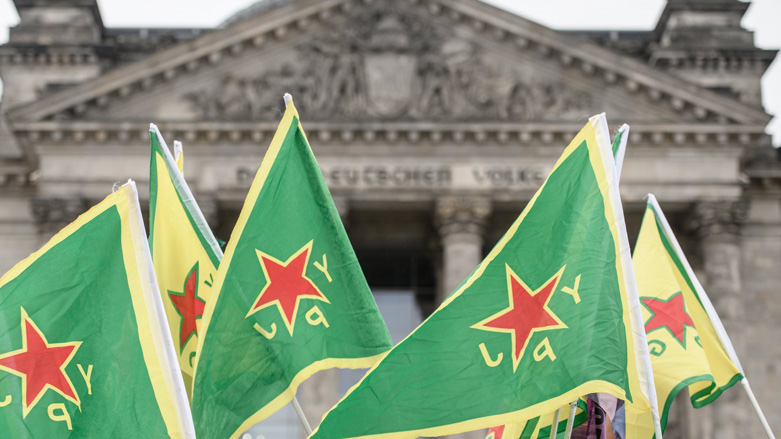 ERBIL (Kurdistan 24) – The spokesperson of the People's Protection Units (YPG), Nouri Mahmoud, told Kurdistan 24 in March that Germany's ban on YPG flags was unethical since it was the YPG that protected Berlin, and other Western capitals against attacks by the so-called Islamic State (IS).
In March 2017, the German Interior Ministry issued a notice to all states with the title "Update on the PKK [Kurdistan Workers' Party] ban" and prohibited various Kurdish symbols including YPG, YPJ (Women's Protection Units) and PYD (Democratic Union Party) flags.
The PKK is a Kurdish rebel force currently engaged in a decades-long war with the Turkish government for broader Kurdish rights.
Turkey, the European Union, and the United States label the PKK a "terrorist" organization.
Until now, some German states still harass or prosecute German citizens for posting the YPG flag on social media or waving it during protests.
"The YPG is a movement which has protected Germany in the front against global terrorism and was the first force that was able to defeat terrorism, although there were a lot of armies in the region," Mahmoud said.
He noted that the YPG was the first group to break IS' spirit when after several advances against opponents such as the FSA, and the Syrian and Iraqi army, the group was finally beaten in a gruesome battle in Kobani that lasted until January 2015.
"IS was advancing to the border of Damascus, Baghdad, and declared its state in the Middle East and carried out terrorist attacks in Europe, until it reached Kobani," Mahmoud stated.
With the support of the US-led coalition, the YPG managed to beat IS, and now controls large swaths of territory in northern Syria. It even defeated the extremists in its capital of Raqqa in October last year.
Therefore, Mahmoud said it's unethical for Germany to suppress supporters of the YPG for Germany's economic interests with Turkey.
"It should stand with its Kurdish friends, and not victimize them for the terrorism of the sultan Erdogan," he added.
However, several local courts since then, such as the court in Berlin, have ruled against the ban on YPG and YPJ flags, resulting in de-facto of easing of the ban.
But there are still conservative states, such as Bavaria, where the ban continues. Several activists had to appear in court, and their homes were searched for having YPG flags.
For instance, the home of academic Kerem Schamberger, a well-known pro-left-wing activist, was raided in November for "solidarity with the YPG." He is still facing judicial issues.
"Nearly every week, I get letters that new investigative procedures are being taken against me," Schamberger told Kurdistan 24. "If I would have lived in Berlin I wouldn't be in trouble."
Moreover, Benjamin Russ, who posted the image of the yellow triangular YPG flag on his Facebook in March, and whose home was raided in August 2017, is still facing legal troubles.
"Well the judge said that she won't put me on trial [on Jan. 18], but then the Department of Public prosecution challenged it," Russ told Kurdistan 24. "If they find me guilty, I'll be seen as a previously convicted felon from that point onward."
Charges against Russ include posting a picture to his Facebook in memory of the Suruc massacre, where 33 civilians who showed solidarity with Kobani died in an IS attack. The prosecution argues this showed evidence of a PKK link.
"They [Munich prosecutors] say sharing a Suruc picture shows that he has sympathies for the PKK. These are the same arguments used by Turkey," Schamberger said.
"You shouldn't see this only from a Kurdish point of view. The Bavarian government has a strong interest in taking down left-wing activists," Russ added.
If convicted, Russ would have to pay a hefty fine or possibly face jail time. "If I decide not to pay I could face [time in] prison," he said.
Moreover, in the city of Oldenburg, a YPG flag at a leftist center was confiscated in May after a police raid.
All this is happening while the YPG have helped Germany, arresting and killing high-level German IS fighters. For example, in April, the YPG detained Mohammed Haydar Zammar, who has links to the 9/11 attacks.
"We have defeated global terrorism. There are still thousands of terrorists captured by our forces. We are protecting Germany, Europe, the World. At the time we fought these terrorists, we were protecting Europe, especially Germany because if we didn't [fight], IS would hit many other parts of Europe," YPG spokesperson Mahmoud said.
"It's unethical to stand against the people who protect you, while you are maintaining the interests of the terrorism of sultan [Recep Tayyip] Erdogan. This is a fact that has to be considered by the German people and government."
The Syrian Kurds have also criticized Germany for providing weapons to Turkey that it used in the attack on Afrin in January. Turkey seized the Afrin region in March.
"This decision is shameful and false and of course [meant to please] Turkey because both YPG and YPJ forces are the ones who defeated IS in Rojava and northern Syria (Raqqa, Tabqa, Deir al-Zor, Kobani, Hasaka, and in other cities)," Ibrahim Murad, a spokesperson for Representation of Rojava-North Syria in Germany, told Kurdistan 24.
"This force has to be congratulated and respected since the terrorist menace in Syria, Rojava, or anywhere [in the World] was defeated by them. The German government instead should thank or congratulate them. But it has banned their flags, slogans, and symbols. This is obviously serving the Turkish fascist state," he concluded.
Editing by Karzan Sulaivany