Kurdish saz player in Erbil citadel wants to put a smile on people's faces
"A really nice and welcoming man, who is also great at playing the saz."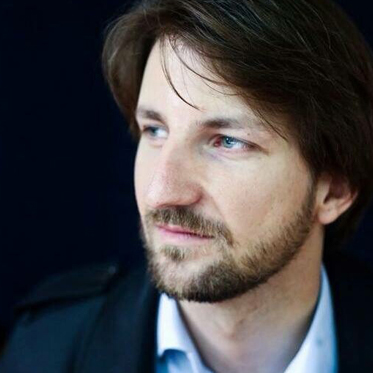 Wladimir van Wilgenburg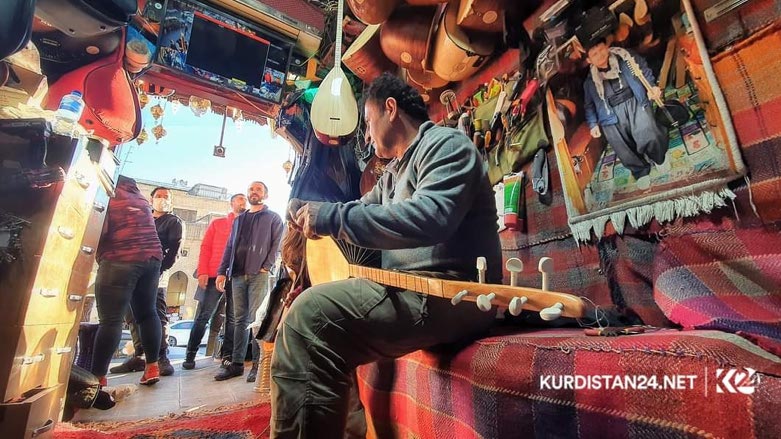 ERBIL (Kurdistan 24) – Bakr Sazvan, born in 1974, has owned a shop for saz instruments (a traditional Middle Eastern instrument) in Erbil citadel for the past 32 years.
"I have a store at the entrance of the Erbil Citadel. I work mainly on Kurdish musical instruments," he said. "Many people are visiting my store, including tourists. I sell musical instruments, and I also teach music lessons. Famous Kurdish musicians from all over Kurdistan and Europe are visiting me almost daily."
When Bakr plays saz at his store, tourists visiting the citadel are encouraged to come over and listen to his music. Some want to buy musical instruments or learn how to play. Others want to lift their spirits by listening to Bakr playing saz.
"I have had my store at this location for the past 32 years and, as I mentioned earlier, I am focused on Kurdish musical instruments – I also have a page [on Facebook] called Bakrsazi kurdi," Bakr said.
"A number of musicians play at my store every day, and I post their videos on my page," he added. "I am thankful to these friends of mine who are playing here. I am glad that I can publish their live performances on social media. My page is far from any topic that could upset people. All we do here is to put a smile on people's faces with music."
Bakr had a brother who played saz before him. After he passed away, Bakr started "learning his profession."
"Saz is an old instrument. Since the day that Adam and Eve found themselves on earth, humans in nature used wood to create different types of tools, including instruments like tembur, keman, shimshal, blur (flute) and kemanche," he said.
"We Kurds in the Mesopotamia region, as a place that Kurds originate from, were fond of musical instruments – to the extent that wherever you see a Kurd, you will surely find music as well."
In Bakr's view, regardless of who is playing music, "either Arabic or Turkish people, what matters is that the Kurds can take pride in the fact that they were the ones who created these instruments."
"Whatever language the music might be in, there is always an ancient Kurdish tune rising from their work," he said.
He added that the saz instrument was originally called Tamur, then over time, it changed to Tembur, Diwan, Buzuq, Baqlama, and so forth.
Read More: Renowned Kurdish singer says Kurds must avoid civil war
"The Kurds across the four states of Turkey, Iran, Iraq and Syria have always been oppressed, but Kurdish music (and saz) players such as Shivan (Perwer), Diyar Dersim and many others before them have been able to support Kurdish fighters with music, and prove that Kurds will never surrender, rather they can reach their dream of freedom," he said
Several YouTubers and influencers have filmed Bakr playing saz, including the London-based Kurd Hakar Mirza, known online as Iamhaks. Mirza is well-known for his online documentaries and videos. He featured Bakr in his second episode of 'This is Kurdistan'.
Read More: London-based Kurd promotes Kurdistan's struggle with online series
"I met Saz Bakr on my visit to Kurdistan in 2021, and instantly he put a smile on my face. He was a proud Kurdistani who appreciated what I did and motivated me to keep going through our conversations together," Mirza told Kurdistan 24.
"A really nice and welcoming man, who is also great at playing the saz."
Bakr also said he had Swedish, American, and British students "who came to me to learn to play this (saz) instrument."
"Some of them stay longer in Kurdistan, so they came to classes since they took an interest in music," he said. "Some of the locals are also registering to join the class."
He pointed that some people interested in playing saz could not afford the instrument.
"Some of them who were good in their practice, I gave them an instrument for free – and later they became good musicians," Bakr said.
"I do not necessarily ask for payment if the students cannot afford it. What matters is how interested they are," he added.
"I had only one saz before, but now I have many; because of that, I would like to support Kurdish music players.'