Unidentified drone targets former ISIS leader in Turkish-controlled Afrin: Syria Monitor
The UK-based Syrian Observatory for Human Rights (SOHR) reported on Friday that a former Islamic State commander was killed in Syria's Turkish-occupied region of Afrin in a drone attack the day before.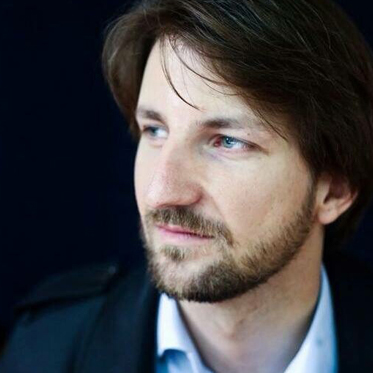 Wladimir van Wilgenburg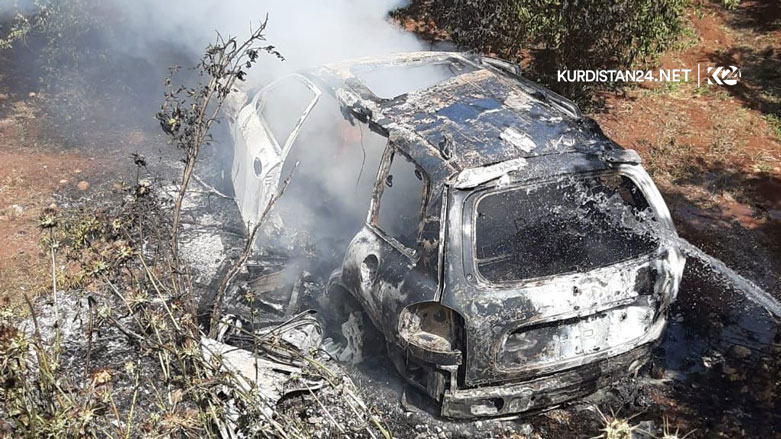 ERBIL (Kurdistan 24) – The UK-based Syrian Observatory for Human Rights (SOHR) reported on Friday that a former Islamic State commander was killed in Syria's Turkish-occupied region of Afrin in a drone attack the day before.
SOHR claimed that the high-ranking member of the extremist organization had been constantly moving "between the areas of Idlib and Jindiris" in northern Syria.
An anonymous source also told Kurdistan 24 that the drone targeted a vehicle between the villages of Iska and Sader and that all the militants inside the vehicle had been killed.
Hassan Hassan, the director of Non-State Actors Program at the Center for Global Policy (CGP), was the first to report publicly in a social media post on Thursday that passengers killed in the strike were affiliated to Islamic State and that the operation had likely been carried out by the United States.
"One was formerly military chief of ISIS Hama Wilayat. They were traveling with documents claiming they were Ahrar al-Sham," he wrote.
However, Col. Myles Caggins, Spokesman for the US-led Coalition, told Kurdistan 24 that "the Coalition did not conduct airstrikes in Northwestern Syria in recent days," making it as of yet unclear which country was behind the attack.
Later on Friday, Hassan then posted a photograph of a fighter's identification card linked to Turkish-backed Ahrar al-Sham militia allegedly found at the site of the attack.
"This would mean ISIS members are unsurprisingly traveling disguised as part of the local (Turkish-backed) rebel forces," he said.
Afrin has been controlled by Turkish-backed groups since Turkey's March 2018 operation targeting the Kurdish People's Protection Units (YPG) that controlled the area since 2012.
Ankara considers the YPG a terrorist organization linked to Kurdistan Workers' Party (PKK), a group that has waged a decades-long insurgency against Turkey for expanded Kurdish rights. The YPG has denied links to the PKK.
Since Turkish-backed militias took control of Afrin in early 2018, multiple reports have emerged that allege former Islamic State fighters have joined their ranks.
According to an August 2019 report of the Syria-based Rojava Information Centre (RIC), at least 40 former Islamic State fighters joined Turkish-backed groups in Afrin.
Sinam Mohamad, the Syrian Democratic Council (SDC) representative in Washington who is originally from Afrin, said that during Turkey's 2018 offensive, Turkish-backed groups openly announced that they were there "to kill Kurdish unbelievers."
Once Ankara and the militias it backs had full control of Afrin, she added, some former Islamic State fighters were spotted there.
Furthermore, she said that after Turkey later took over the Syrian city of Ras al-Ain (Serekaniye) and Tal Abyad in its so-called Peace Spring offensive of October 2019, "many ISIS fighters were spotted" as well.
"Since two years human right[s] violations have continued, including killings, kidnapping for ransom, and forced marriages of (Kurdish) women in Afrin, similar to what ISIS did in Sinjar and Raqqa."
Read More: UN: Turkish-backed groups carry out war crimes, target Kurdish women
"What is the difference [between] what ISIS did in Raqqa, or Turkish-backed groups in Afrin? Who supports these groups? They are just in Afrin under different names and they only changed their appearances."
According to Shervan Darwish, the spokesperson of the local Manbij Military Council, these reports are no surprise because "ISIS has disguised itself within Turkish-backed armed groups."
Also, in December 2019 there were additional reports that Islamic State fighters disguised as Ahrar al-Sham fighters were killed in a drone strike in Afrin's village of Basuta.
"They were three individuals that carried Ahrar Sham ID cards, but Ahrar Sham denied that they were members of Ahrar Sham, and [said] that they were ISIS," Darwish told Kurdistan 24 at the time.
"People know that there is not a difference between Ahrar Sham and them [the Islamic State], they are same in the essence."
According to Derwish, the Islamic State basically grew out of opposition factions in 2012-2014, factions that he said had worked together before and previously controlled as much as of three quarters of Syria.
"And now, areas like Idlib, Euphrates Shield region, Afrin, and most recently Gire Spi (Tal Abyad) and Serekaniye," he said, referring to territory that has been under Turkish control since October, "have a similar potential to be the base of [the] next ISIS."
He added that, in the past, his forces have captured Islamic State sleeper cells in Manbij that had been taking their orders from superiors in Idlib.
"The ISIS sleeper cells smuggle themselves to the areas under opposition control to reorganize and plan for explosions in our areas."
Also, a report from the Pentagon's Inspector General covering the first quarter of 2019 (Jan. 1 - Mar. 31) suggested that Islamic State fighters had moved into urban centers, such as Manbij and Idlib, in Syria, after losing control of the Middle Euphrates River Valley (MERV) in March 2019 to the Syrian Democratic Forces (SDF), which "enabled them to bolster forces for high-visibility attacks."
Nicholas A. Heras, Middle East Portfolio Manager at the Institute for the Study of War, told Kurdistan 24 that "as the territorial Caliphate crumbled, ISIS leaders sought refuge wherever they could find it."
"Some of these ISIS leaders sought to 'blend' into areas of northwest Syria controlled by hardline Salafi-Jihadi groups such as HTS (Hayat Tahrir al-Sham)."
Currently, the HTS, a group formerly known as al-Qaida's Syrian affiliate Jabhat al-Nusra, controls Idlib. Moreover, the Turkish army maintains several observation points across the province.
One such high-visibility attack in January killed 19 people in Manbij, including four Americans. According to the Manbij Military Council, Islamic State members captured after the attack confessed that the attack had been planned from Idlib.
On Thursday, the SDF announced that an Islamic State sleeper cell it had captured in the Deir al-Zor province while preparing for post-Ramadan terror attacks including car bombings was organized from the Turkish-controlled town of Ras al-Ain.
Read More: SDF says it foiled ISIS attacks in Syria planned for post-Ramadan holiday
Derwish also pointed out that former Islamic State leader Abu Bakr Al-Baghdadi and other senior figures had moved to Idlib and nearby Turkish-controlled areas as a new "base for their reorganization."
Both Baghdadi and Islamic State spokesperson Abu Hassan al-Muhajir were killed in US operations in Syria near the Turkish border in October. Muhajir was targeted in a village near Jarabulus that has been freed by Turkish-backed groups from Islamic State control during Turkey's Euphrates Shield Operation in August 2016.
"The common ground between Turkish-backed groups and Islamic State is vast; both believe in jihad," Derwish concluded.
"Now the Turkish-backed factions are branded as the Syrian National Army, but that is only a title. On the ground, each of the factions have their divisions and continue fighting each other as well."
Editing by John J. Catherine