60 Years of Service: An American Diplomat's Short Story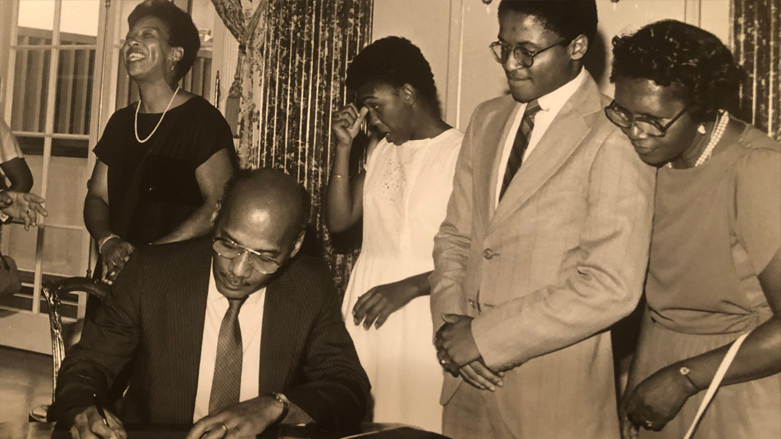 Distilling 60 years of the Hicks family's service and contributions to the State Department and the Foreign Service for this op-ed presents a unique challenge and a seminal opportunity to share a distinctly American story.
My family's engagement in the foreign affairs and national security arena began with my grandfather's service with the 332nd Fighter Group (USAF Tuskegee Airman). This unit made significant unheralded contributions to the victories in Europe and North Africa during World War II.
My father's storied 38-year career with the Department began as a communications officer where he earned a minimalist salary of $4,010 per annum. His rise through the ranks included tours as Deputy Executive Director for the Bureau of African Affairs, Administrative Officer for U.S. Mission West Berlin, Deputy Chief of Mission for U.S. Mission Togo, Chief of Mission to the U.S. missions in the Seychelles and Ethiopia, and Deputy Representative to the Security Council of the United Nations with the rank of Ambassador. He also served as the Deputy Assistant Secretary (DAS) in the Bureau of Personnel and DAS for East Africa in Bureau of African Affairs. His journey and career trajectory resulted in my being born into the Foreign Service, and I received my kindergarten to high school education in such destinations as Mali; Morocco; the Central African Republic; Tanzania; and West Berlin, Germany.
It was not my initial plan to become a Foreign Service Officer, because I was not keen on following in my father's pioneering and trailblazing shoes, unsure if the "apple would fall far from the mighty tree." I had a change of heart when I left the corporate world to find a more meaningful mission through public service. This decision led me to join the family business, and my Foreign Service tours as a Management-coned officer included Guinea, Nigeria, Brazil, the Naval War College, Burundi, Deputy Chief of Mission in Mauritania, a Foreign Policy Advisor to the Africa Command in Djibouti, the lead negotiator for the first U.S. security agreement with Poland in the Bureau of Political and Military Affairs, and Senior Advisor for the Bureau of International Narcotics and Law Enforcement.
Reflecting on my father's and my own stories, I note that both of our careers were influenced by inflection points in American history. My father joined the Department at the advent of the Kennedy administration amidst the throes, violence, and transformation wrought by the Civil Rights movement. He navigated the Department's designated "Whites vs Blacks only" water fountains and cafeteria, the established "Male, Pale and Yale" corporate culture, and W. E. B. Du Bois' unrelenting question: "What does it mean to be Black and American?" My father's response was to excel as a diplomat, surpass prejudiced expectations, and ably represent the United States of America—at home and abroad. His rise through the ranks served as my exemplar in my pursuit of excellence, and his ability to ignore racist provocations and overcome institutional barriers instilled in me a fire in the belly to pursue my own definition of professional excellence and embrace the opportunity to serve my country as an American diplomat who just happens to be, and proudly, African-American.
The George Floyd murder and the renewed national discussion on race, equal opportunity, and social justice in America is a reminder that "plus ca change, plus c'est la meme chose." The State Department continues to face the challenge of evolving into an institution that is a model of diversity, inclusion, and equity. My contribution to this transformation was to answer the call to duty and serve as president of the Thursday Luncheon Group (TLG), the Department's oldest affinity group that was established in 1973. TLG's agenda is the promotion of the R.A.R.E. Talent initiative, which seeks the "Recruitment, Advancement, Retention, and Empowerment" of African-American and other under-represented Foreign and Civil Service Officers to ensure that we can contribute to leading, supporting, representing, and implementing American foreign policy worldwide, particularly at the senior level.
The issue of diversity and inclusion has become an overdue Department priority. This line of effort is about ensuring that the State Department is a workplace where talented Civil and Foreign Service officers, regardless of their race, background, or demographics, can rise through the ranks and reach their full potential based on a level playing field of fairness, equal opportunity, and merit. These tenets reaffirm and strengthen our nation's creed: E Pluribus Unum.
The Hicks family's "Horatio Alger" story reflects America's promise, dynamism, potential, and uniqueness whereby the descendants of former slaves, sharecroppers, blue-collar factory workers, and military service men and women overcame poverty, segregation, disenfranchisement, and institutional racism to produce not one but two diplomats who rose through the ranks to become senior members of the State Department and the Foreign Service.
That is one heck of an American story.
***The views expressed in this article are those of the author and do not necessarily reflect the views of Kurdistan 24.