Coalition: Civilians paid the price for militia attacks on Erbil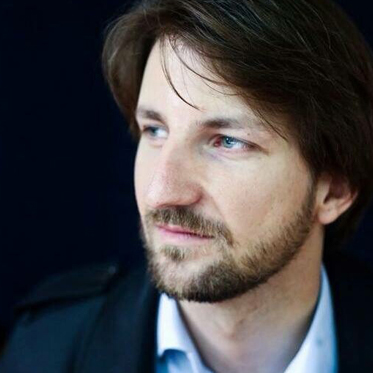 Wladimir van Wilgenburg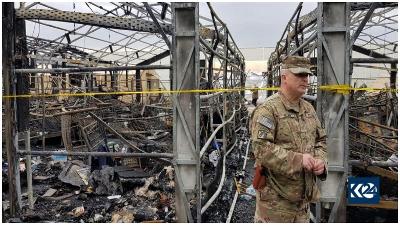 ERBIL (Kurdistan 24) - Major General Kevin Copsey, Deputy Commander of the US-led anti-ISIS Coalition in Iraq and Syria, told Kurdistan 24 that civilians have paid the price for the militia attack on Erbil this week, along with those on Coalition sites in Iraq.
"It's horrible and my heart goes out to the family of the Filipino contractor that lost his life," Copsey said Friday during a visit to the Kurdistan Region where he was to meet with Peshmerga leadership.
"But it isn't just the Coalition that actually pays the price," the British Army officer told Kurdistan 24. Many of the missiles that targeted the base in Erbil "actually overshot the airfield" and landed in residential and commercial areas of the capital, he explained.
The same thing happens in Baghdad, he said. "They overshoot the coalition base, and it is the Iraqis – it is the Kurds in this instance – that actually … get mained, injured, or their properties are damaged as a result of the acts of violence."
The base at Erbil International Airport hosts Coalition troops from different nations, including Dutch, German, Hungarian, Italian and US forces.
"There are around 27 nations that provide military capabilities to the Coalition," Copsey said. "But we are supported by numerous contractors, and in this case, they were contractors … from other countries."
Social media posts and a friend identified the deceased contractor as Jonas Aragones, a Filipino firefighter who had served with US forces in Kuwait and Iraq for a decade.
"I lost a Brother and a very good friend of mine in this worthless attack," said a friend of Aragones's who asked not to be identified by name.
"Jonas doesn't deserve his fate because he was just here to work hard for his family and the future of his children. He is a good man and we will be missing him," he told Kurdistan 24.
Nine people at the base were injured in Monday's attack – eight civilian contractors and an American service member. The Kurdistan Ministry of Health has said at least three civilians were injured by a rocket that fell in the nearby civilian neighborhood.
On Wednesday, Kurdistan 24 visited the impact site at the military base at Erbil International Airport. Contractors on the site were still grieving and visibly in shock. Erbil has generally been quiet and largely out of the bullseye of militias that operate in Iraq.
Public Affairs Officer Major Robert Allen of the Louisiana Army National Guard 256 Infantry Brigade Combat Team, who was present during the attack, told Kurdistan 24 at the impact site that all soldiers and members of the Coalition forces responded as they had been trained.
"We saw a lot of things happening, and we saw a lot of great people doing some pretty phenomenal jobs in the sad circumstance," Allen said.
Allen said the mission will continue to ensure the lasting defeat of ISIS: "We're going to keep supporting our local partners and we're going to keep supporting the Coalition to bring stability to the area."
He wouldn't discuss the base's ability to defend against future attacks. "However, I would say it is robust and we were prepared for any situation that can arise," he insisted.
The Feb. 15 attack was not the first time the Coalition base was targeted. In September, six rockets were fired towards Erbil airport by a militia group inside Iraq, although there were no civilian or military casualties.
Read More: Kurdistan Region condemns rocket attack near Erbil airport, blames Iran-backed militias
Allen added that there have been other incidents "but nothing that I see as far as directly hitting the airport in Erbil."
He also underlined that the Kurdish people have greatly appreciated the presence of Coalition forces in Erbil. "We want to assist the Kurdish government in any way possible to bring stability" to the area, he said.
Operation Inherent Resolve spokesperson Colonel Wayne Marotto told Kurdistan 24 that the Coalition has the right to self-defense. "We will defend ourselves, and with regards to the investigation we will support the Kurdistan Regional Government (KRG), and its investigation of who did this attack on the Kurdish people," he said in an interview at the blast site.
A militia calling itself Saraya Awliya al-Dam (Guardians of Blood) has claimed the rocket fire, but Copsey said Friday that there are no new details on the attack.
"We wait and see what the investigation that's being led jointly between Baghdad and Erbil [finds] and what is that they actually derive has been the true perpetrators behind this outrageous attack," the general said.
However, he said it is up to the Peshmerga forces and the wider Iraqi security apparatus to defend Coalition members and the Kurdistan Region against criminal attacks by terrorists, whether by ISIS or militia groups.
"We are in a twilight of our campaign now; we are not as big as what we were 12 months ago, and therefore we've evolved our role," into more of a mentorship and advisory position "and that means we rely on the Peshmerga and the wider security apparatus [in Iraq] to look after us."
"So actually, it's them [Peshmerga forces] that now provide the very security that we now depend upon."
Copsey ruled out a military response and stressed that the Coalition will support the joint KRG-Iraqi investigation. "In this case, a criminal response requires a proper judicial process to follow it up, and that's what will happen," he said.
He added that all the intelligence shows an image of what is given by "our partners" – that it was a standalone attack by a militia group "that acts in its own self-interest and not in the interest of the Iraqi people or the people of Kurdistan that they think that they are protecting."
So far no one has been arrested by Iraqi or Kurdish security forces in connection with the attack.
Editing and additional reporting by Joanne Stocker-Kelly