Can one man's thousand kilometers walk end Turkey's war with Kurds?
Turkish politician Tuna Beklevic hopes millions of steps he took from Ankara to Diyarbakir brings peace as the government suspiciously watches his daring endeavor.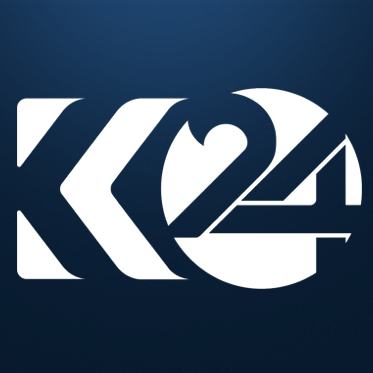 Ari Khalidi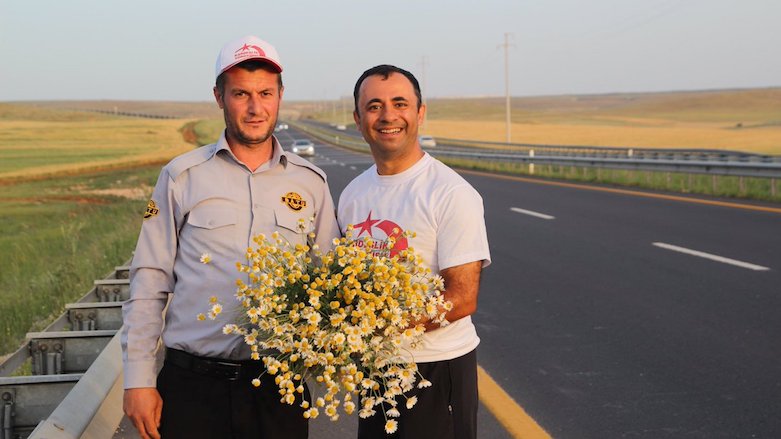 DIYARBAKIR (Kurdistan 24) – Twenty-seven days ago, a self-styled lone Turkish politician embarked on a 1,058 kilometers (657 miles)-long journey on foot from Turkey's capital Ankara to the largest Kurdish city, Diyarbakir.
With a purpose in mind and a broad smile on his face.
On Saturday, under heavy spring showers, Tuna Beklevic finally made it to Diyarbakir or Amed as the Kurds call it by its ancient Syriac name.
Amed's historic center Sur was battered by months-long clashes between Turkish government forces and armed rebelling Kurdish youth two years ago.
The 41-year-old is a native of the westernmost province of Turkey, Edirne, where authorities keep the country's most influential Kurdish politician and a candidate for president Selahattin Demirtas, jailed for over 18 months now.
A pilot, farmer, economist, and himself a hopeful candidate for president of Turkey until his failure to garner 100,000 signatures for his independent nomination, Beklevic calls his endeavor the "Brotherhood Walk."
Among the Kurds in Turkey, the word "brotherhood" does not ring bells of immediate hope for an end to the republic's almost century-long denial and harsh oppression of Kurdish identity, language, culture, and demand for self-rule.
Quite the contrary, to most Kurdish ears it is a mere code word state officials, and politicians occasionally use to shut down debate around "the Kurdish issue" that has taken tens of thousands of lives.
The country's President Recep Tayyip Erdogan frequently resorts to the phrase "my Kurdish brothers."
His administration, meanwhile, continues to jail hundreds of Kurdish politicians, lawmakers, and mayors; his army fights Kurdistan Workers' Party (PKK) rebels at home, invades territories in Syria to destroy Kurdish autonomy, and threatens the Kurdistan Region's aspirations for independence from Iraq.
A former member of Erdogan's ruling Justice and Development Party (AKP) and advisor to the European Union ministry before his fallout with them, Beklevic appears to be aware of the word's connotations.
"I am treading this path for equality," he told Kurdistan 24 upon his arrival to Diyarbakir's urban outskirts.
"I am walking this walk for a brotherhood based on equality, as a Turk for the Kurdish struggle," he said. "This walk is for peace."
Beklevic has advocated the right to education in mother tongue and federalism and opposed Turkey's invasion of the canton of Afrin in Syrian Kurdistan, a bold stance given the current political climate in the country.
Maintaining fierce criticism of an ever-increasing crackdown on the Kurdish movement, mounting reports of torture in Turkish prisons, government's purge of some 130,000 public servants, and an ongoing state of emergency has made him a person of interest in the eyes of authorities.
"Intelligence and police officers following me, please come up and introduce yourselves. [I] do not eat humans. We will provide you with our daily schedule. Going around here and there, you put yourself, the traffic, and citizens in hardship. Communication is civilization," Beklevic tweeted on the road several days ago.
Tweeting throughout the trip, his social media savvy keeps him in touch with supporters and helps him spread the message to evade media blackout on the opposition with a large majority of the mainstream news outlets owned by businessmen close to the government.
"I have been away from my children for days. Whenever I talk to them, I think of victims of presidential decrees, and Kurdish leaders kept away from their children. It hurts me," he once wrote on a screenshot of a Facetime call with his son.
"I walked about 40 kilometers each day. Wherever I went, citizens in the cities and villages I came upon warm-heartedly welcomed me," Beklevic told a Kurdistan 24 correspondent.
A lot of them chose to accompany him at times, albeit for distances shorter than his.
Similarly, that was the case when he entered Diyarbakir.
Hundreds of people, NGO representatives, youth taking selfies, and lawyers including the head of Diyarbakir Bar Association Ahmet Ozmen welcomed him with flowers on the way to the Four-legged Minaret, a 16th-century landmark in Sur, his final destination.
Security forces, however, prevented them from walking with him, a measure he believes was ordered personally by the Interior Minister Suleyman Soylu, a hawkish figure of the Erdogan administration.
Only Ozmen could join Beklevic to the Minaret, a UNESCO world heritage site where the former's predecessor Tahir Elci was shot dead in a broad daylight shootout between plainclothes police officers and unidentified armed men.
There, Beklevic wanted to make a statement to journalists.
Police barred him from doing that.
Editing by Karzan Sulaivany
(Kurdistan 24 correspondent in Diyarbakir Hesen Kako contributed to this piece)