Syrian Kurds open church in Kobani, once besieged by IS
Parish leaders opened a new church on Thursday in a city that became an icon for the resistance against the Islamic State (IS) in 2014.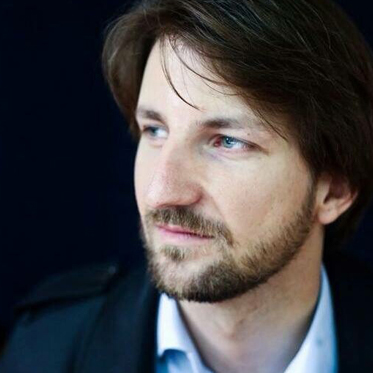 Wladimir van Wilgenburg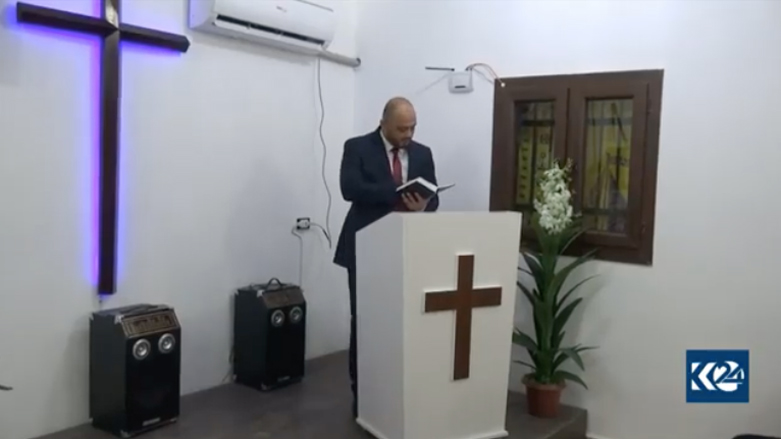 ERBIL (Kurdistan 24) – Parish leaders opened a new church on Thursday in a city that became an icon for the resistance against the Islamic State (IS) in 2014.
"Afrin was destroyed, but with the help of God, and the permission of the administration in Kobani, we opened this place," Zanî, a priest from Afrin who fled when Turkish-backed Islamist rebels took over in March.
"And our people will meet here and we thank the people of Kobani," he told Kurdistan 24.
About six Christian families from Afrin fled to Kobani, where a total of approximately 300 Christians now live.
Farzad, project manager of the Christian NGO AVC International, which supported the opening, said this is the first time in recent memory a church has opened in the city.
"The last church [in Kobani] was destroyed 30 years ago and the last Christian meeting was 55 years ago," he told Kurdistan 24.
Over the past three years, Christians in Kobani worshipped privately in home prayer groups,
"When the war in Kobani started, and ISIS attacked Kobani, they [refugees] came to Suruc, and we start[ed] helping them with the hospital, and camps," Farzad said.
"You have to realize Christianity doesn't have a very long history [in the area]. There were churches in Kobani, and a lot of descendants from Armenians that were forced to become Muslim still live in Kobani," he said.
Many Armenian refugees settled in Kobani around 1915 after fleeing the Armenian genocide. However, after IS attacked Kobani in 2014, some Muslims Kurds also converted to Christianity.
"ISIS encouraged them to find out about Islam, and see if it was true Islam or not."
Ahmed Sheikho, a member of the Movement for a Democratic Society (TEV-DEM) told Kurdistan 24 that radical groups destroyed the previous religious co-existence in the region.
"Today, we opened the church in Kobani, following the principle of the democratic nation, we want every religion, ethnic group, national group to coexist together, pray together, and we will help them," he said.
Bassam Ishak, who represents the Syrian Democratic Council (SDC)'s political bureau in Washington, told Kurdistan 24 that the Democratic Self Administration (DSA) in Afrin has licensed 3 similar churches for local converts.
However, now all of the Christian coverts have run away to Aleppo city, or camps in Northern Aleppo due to the Turkish attack on Afrin. "The Church is closed as Turkish allies force Yezidis and Christians to covert to Islam," Farzad from AVC said.
Some Assyrian organizations in Europe have accused Kurds of discriminating against Christians, after the DSA in the Jazira region shut down some pro-regime Christian schools for refusing the curriculum of the Kurdish-led self-administration.
However, local officials claim local administrations do not make significant distinctions between religions or ethnicities.
"There is indeed a smear campaign inside and outside Syria against DSA in Qamishli," Ishak said.
"The regime is trying to get back control of Jazira region and trying to use the Christians as a card to accomplish this. The DSA policies are on the contrary supportive of all religions and ethnicities and the regime in Damascus and Tehran doesn't like that," he said.
"Tehran and Damascus know that there is sympathy for Middle East Christians in the West and are using that to drive a wedge between [the] West and Democratic Self Administration," he argued.
Recently there were also tensions in the city of Qamishli, which has a sizeable Christian population, after the local administration threatened to close down Christian schools if they continued to teach the regime's education system, leading to local protests.
"The DSA requires first to third grade elementary children to study in their mother tongues. Arabs in Arabic, Kurds in Kurdish, and Syriacs in Syriac (Aramaic) language," Ishak said.
"But a compromise was reached and the schools opened [on Sept. 12] and they will teach more courses in Aramaic, the language of Christ and the Syriacs," he said.
"It's actually a great victory for the Syriac Christians of Syria."
Editing by John J. Catherine
(Additional reporting by Redwan Bezar in Kobani)