Despite crackdown, hundreds of thousands celebrate Newroz in Turkey
"Those who demolished Kawa the Blacksmith's statue should know that each one of us in this square is a Kawa," HDP Co-chair Pervin Buldan said in Diyarbakir.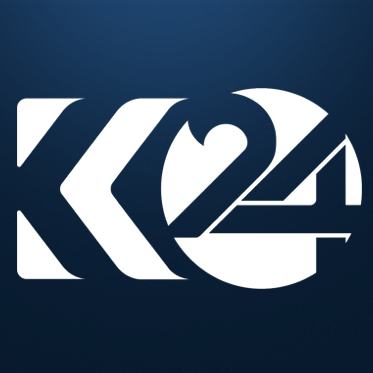 Ari Khalidi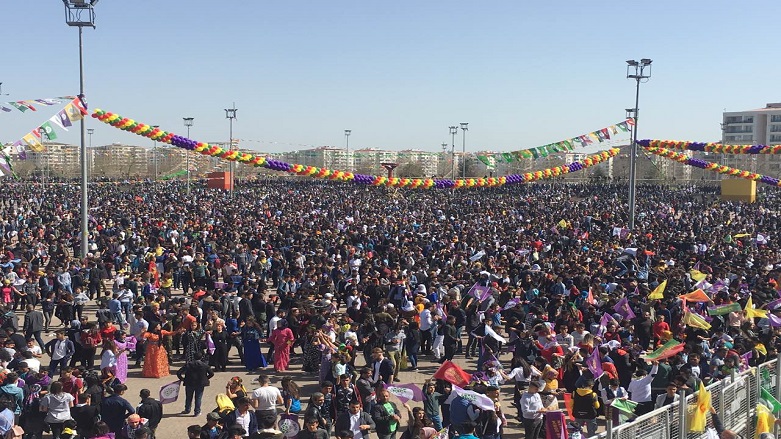 DIYARBAKIR, VAN, ISTANBUL, Turkey (Kurdistan 24) - Kurds in Turkey flocked to open spaces in droves on Wednesday to celebrate Newroz, the Kurdish New Year, an occasion strongly symbolic of Kurdish rights and independence.
People gathered in Van, Urfa, Cizre, Nusaybin, Mardin, Siirt, Istanbul and the Turkish capital of Ankara, among other cities, marking the holiday. In today's Turkey, the policies of which are seen as an undeclared, multi-front war on the nation's Kurdish groups, publicly observing Newroz amounts to politicial activism.
Celebrations in some towns and cities, including Kars, Agri, Igdir, Mus, Dogubayezit, Derik, Ergani, however, were banned by central government-appointed authorities, a practice more widely imposed in the 1990s.
As in past years, the largest celebration took place the city of Diyarbakir, where hundreds of thousands of mostly young people showed up, and attended by international guests from France, Italy, Norway, and Sweden, a Kurdistan 24 reporter following the event said.
Crowds sang songs of resistance, waved the flag of Kurdistan, chanted slogans in support of the Afrin region of Syrian Kurdistan currently under Turkish occupation, and lauding imprisoned founder of the Kurdistan Workers' Party (PKK) Abdullah Ocalan.
Pro-Kurdish Peoples' Democratic Party (HDP) leaders and lawmakers joined the crowds and made speeches.
HDP's Co-chair Pervin Buldan addressed those gathered in Diyarbakir, harshly condemning the Turkish government of President Recep Tayyip Erdogan for its assault on Afrin.
Buldan said that Kurds in Iran, Turkey, Syria, and Iraq were one people and an attack on any one of them hurt them all, calling out, "Those who demolished Kawa the Blacksmith's statue should know that each one of us in this square is a Kawa."

After their capture of Afrin over the weekend, the Turkish military and its proxy Free Syrian Army (FSA) factions destroyed a statue of Kawa, an Iranian-Kurdish mythological figure who led an uprising that overthrew a foreign tyrant named Zahak. The legend is the original founding story of Newroz.
Buldan added that Afrin was one of the few places in Syria that remained intact from the civil war there until the Turkish offensive began two months ago.
She urged the Turkish government to reinitiate peace talks with the PKK through talks with Ocalan and blamed Erdogan for the collapse of the 2013-2015 negotiations.
Criticising Ankara's crackdown on her party, she continued by saying that former HDP co-leaders Selahattin Demirtas and Figen Yuksekdag, eight additional MPs, at least 60 mayors, and thousands of party members, now in prison, were "hostages."
"Newroz is resistance against oppression. The fire of Newroz is defiance of what the enemies of the Kurdish people did to Kirkuk and Afrin," Ziya Pir, an HDP lawmaker representing Diyarbakir, told Kurdistan 24.
Kurds lit bonfires, a Newroz tradition symbolizing purification and Kawa's rebellion against Zahak.
Another HDP MP Imam Tascier likened the Iraqi takeover of Kirkuk following the Kurdistan Region's September referendum on independence and the Turkish assault on Afrin that killed hundreds of civilians and displaced thousands from their homeland, calling them both "attacks on the Kurdish people."
"And they were done savagely," Tascier said, telling the crowd of civilian casualties, the mutilation of Kurdish fighters' bodies, destruction of ancient sites, and attacks on culturally significant landmarks.
Kurdistan 24 correspondents Hesen Kako, Guler Sarili, Mahir Yuksel in Diyarbakir, Siddiq Eren in Van, Azad Altun in Istanbul, and Vural Erismis in Ankara contributed to this report.
Editing by John J. Catherine