Dutch Ambassador says he always feels at home in the Kurdistan Region
"There are very few places in the world where I feel more at home than here in Kurdistan."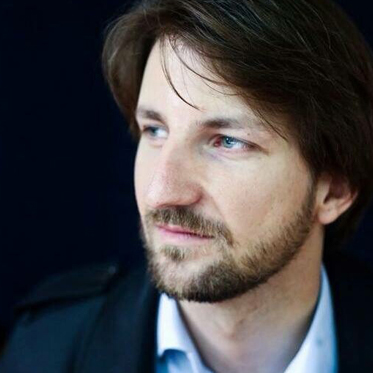 Wladimir van Wilgenburg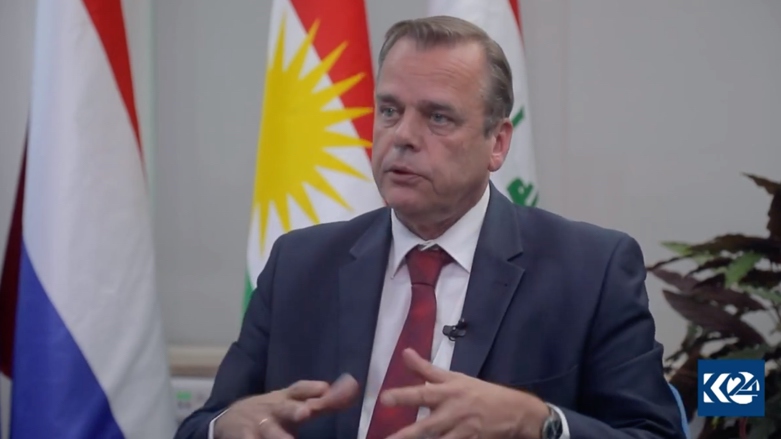 ERBIL (Kurdistan 24) – The Dutch Ambassador to Iraq Michel Rentenaar told Kurdistan 24 in an interview earlier this month that he always feels like he is "coming home" when he visits the Kurdistan Region of Iraq.
"I think Kurdish is a synonym for hospitality," he said. "I always feel so warm, as if I'm coming home."
He said it's his job as a diplomat to travel the world. And, having traveled far and wide, he has found that "there are very few places in the world where I feel more at home than here in Kurdistan, and this is also the reason why I enjoy it very much every time I can come north, basically from Baghdad to Erbil."
In addition to Erbil, Ambassador Rentenaar has also visited the Kurdistan Region cities of Sulaimani, Duhok, Halabja, and Zakho.
Business relations
The Netherlands has several projects in Iraq and the Kurdistan Region that support the private sector and relations between Dutch and local companies.
"It is easier to do business in the Kurdistan Region than in the rest of Iraq because the security is better," Rentenaar said.
"It is much more difficult to convince a Dutch businessman to come to parts of central Iraq," he added, due to security reasons. Nevertheless, he still hopes the successful cooperation between Dutch and Kurdish businessmen can also be expanded to central Iraq.
"When you create a good example, others will follow," he said.
Agriculture
The Dutch Ambassador pointed out that the Netherlands is the second biggest agricultural exporter globally, second only to the United States.
"We have a wealth of experience in agriculture, horticulture, cows, goats," he said. "We are trying to bring Dutch agricultural entrepreneurs and business people to Kurdistan, invest, and basically make money together."
"Even the other week, there were another 200 cows exported to Kurdistan to set up a milk factory and make cheese," he added.
Moreover, the Dutch government is working to support internally displaced persons (IDPs) in Iraq and the Kurdistan Region.
"You still have many IDPs," Rentenaar said, adding that the Netherlands is trying to create agricultural tools to help these IDPs improve their lives.
Last year, the Dutch, together with Kurdistan Region Prime Minister Masrour Barzani, opened a large potato factory in Duhok.
Read More: Kurdistan PM lays foundation stone of potato processing plant in Duhok
The facility, the first of its kind in Iraq, will create 160 sustainable jobs at the plant and provide 10,000 job opportunities for refugees and IDPs on potato farms.
ISIS is still a threat
Ambassador Rentenaar pointed out that the Netherlands is a member of the anti-ISIS Coalition and has approximately 150 soldiers stationed at Erbil International Airport.
"In 2017, the caliphate as such was defeated, but we're also super aware that even though ISIS as a caliphate was defeated, the way of thinking of ISIS, let's say, and even some structures have not been totally destroyed," he said.
He also underlined the deep appreciation the Netherlands has for the role played by the Kurdish Peshmerga in the war against ISIS.
"We're part of the anti-ISIS coalition and that, for instance, is in effect that we have here 150 troops in Erbil guarding the airport that's part of the anti-ISIS Coalition," he said.
The Netherlands supports the reform program in the Ministry of Peshmerga Affairs that aims to bring all Peshmerga forces under a unified command rather than separate commands under different political parties.
Ambassador Rentenaar said great strides have been made in pension reform and electronic payments and bringing political party units under the command of the Ministry of Peshmerga.
"This is not something that happens overnight," he said of the reform program. "I think there are some really good signs where you see that different forces are transferred under the control of the Ministry of Peshmerga Affairs. So that's a good step."
Prime Minister meeting
The Dutch Ambassador also discussed human rights concerns with Prime Minister Barzani during their meeting on Feb. 8.
"We actually covered a whole range of issues: political, security, and commercial, the human rights situation, the cooperation with the Peshmerga, all of it," he said.
"So we really go through all the issues, and we build up a good bond between our two countries."
Read More: Dutch Ambassador praises reforms of the KRG's ninth cabinet
Ambassador Rentenaar also mentioned the case of Doski Azad, a 23-year-old transgender woman recently killed by her brother in Duhok.
"Very recently, a transgender person was killed, and of course, we press them again," he said. "I did today. I find it very important as friends to be able to say 'please catch the killer' because it is those kinds of things that determine the business environment in which both of us work together."
"And those concerns need to be raised, and I hope they will be taken seriously."
Read More: US condemns 'honor' killing in Duhok, calls for investigation
Dutch Kurds
The Dutch Ambassador to Iraq also pointed out that there are 7,000 Kurds with Dutch passports in the Kurdistan Region.
"We find people that have some link with the Netherlands, even all the way up to the Foreign Minister of this country (Iraq)," he said.
He explained that for the Netherlands, Iraq (and the Kurdistan Region) isn't some faraway country.
"You are like neighbors to us, and when you are good with your neighbors, it's beneficial to both," he said. "So this is a two-way street."
"We are very happy to be investors and partners here, to stand with you shoulder to shoulder in your fight against ISIS or trying to create jobs," he added. "And this is, in essence, how you build the strongest relationship."
"And that's why I think I probably have the nicest job in the world."