Trump speaks with Gen. Mazloum; calls for Syrian ceasefire; imposes sanctions on Turkey
Monday's discussion marked the first time that Donald Trump has ever spoken with the Kurdish commander. It also seemed that Trump did a bit of mediating between the SDF and Turkey.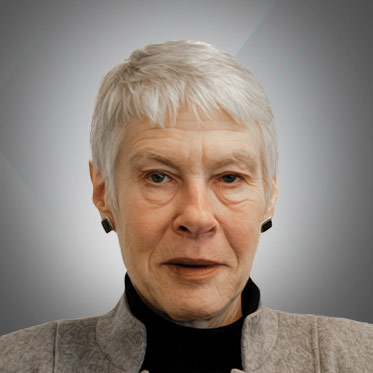 Laurie Mylroie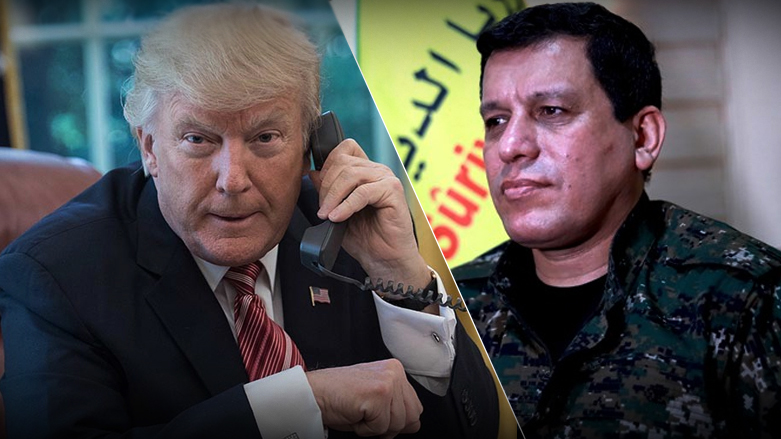 WASHINGTON DC (Kurdistan 24) – Late on Monday, the Trump administration issued a series of statements suggesting that it was reversing the course it had pursued over the past week, in which it accommodated the determination of Turkish President Recep Tayyip Erdogan to gain control of a broad corridor in northeast Syria.
US President Donald Trump spoke on Monday with Gen. Mazloum Abdi, the head of the Syrian Democratic Forces (SDF), as Vice President Mike Pence explained to journalists later that day.
The SDF's military leadership consists of the Kurdish People's Protection Units (YPG). It has been America's main partner in the fight against the so-called Islamic State in Syria, and Pence hailed the SDF as "a strong ally of the United States," as he explained to journalists that after speaking with Mazloum, Trump spoke with Erdogan, at the Turkish President's request.
During their discussion, Mazloum briefed Trump about the situation on the ground in northeast Syria, Pence said. Mazloum told him that "Turkish forces had not gone beyond the 30 mile [sic] buffer zone."
However, Mazloum "expressed particular concern" about Kobani and asked Trump "to raise that issue directly" with Erdogan, as a matter of "great concern."
So when Trump spoke with Erdogan, he "was very direct," Pence said, and "received a firm commitment" that there would be no attack on Kobani.
Monday's discussion marked the first time that Trump has ever spoken with the Kurdish commander. It also seemed that Trump did a bit of mediating between the SDF and Turkey.
Pence announced that he and White House National Security Advisor Robert O'Brien would lead a delegation to Ankara "in the near future" in an effort to do just that on a broader scale and secure a ceasefire.
As Pence said, Trump "communicated" to Erdogan "very clearly" that the US "wants Turkey to stop the invasion, to implement an immediate ceasefire, and to begin to negotiate with Kurdish forces in Syria to bring an end to the violence."
Asked about the likelihood that Pence could succeed, a senior US administration replied, "I think the President would not be willing to send a high-level delegation on short notice like this unless he was pretty confident there was at least a chance at getting to a ceasefire."
Standing alongside Pence, Treasury Secretary Steven Mnuchin also announced that the US was imposing sanctions on three Turkish ministers – Defense, Interior, and Energy – as well as Turkey's Defense and Energy Ministries, as entities in themselves.
"The president's objective here is very clear," Pence said, as he described the new measures. "The sanctions that were announced today will continue and will worsen unless and until Turkey embraces an immediate ceasefire, stops the violence, and agrees to negotiate a long-term settlement of the issues along the border between Turkey and Syria."
In addition, a White House statement, issued under Trump's name, clarified that while the US was withdrawing forces from northeast Syria, they would not leave the area. Rather, they would "remain in the region to monitor the situation and prevent a repeat of 2014, when the neglected threat of ISIS raged across Syria and Iraq."
Trump did not say where those troops would go, but one obvious possibility is Iraq's autonomous Kurdistan Region.
Trump also stated that US forces would remain in a base further south, in al-Tanf, Syria, where they sit aside the main highway from Baghdad to Damascus. Their presence prevents Iran from using the road to supply its proxies in Lebanon and Syria.
Finally, Secretary of Defense Mark Esper issued a statement, in which he denounced Turkey's "unilateral invasion of northern Syria," and charged that "President Erdogan bears full responsibility for its consequences," which "include a potential ISIS resurgence, possible war crimes, and a growing humanitarian crisis."
Indeed, the first group of refugees fleeing the Turkish assault arrived in the Kurdistan Region on Monday. Kurdish officials fear, in the worst case, an influx of over 250,000 people—on top of the one million refugees and internally displaced persons already in the Kurdistan Region.
Read More: First group of Syrian refugees arrive in Kurdistan Region
Esper also announced he would travel to Brussels next week to coordinate a NATO response to "these egregious Turkish actions." Major European powers, including France and Germany, have been significantly quicker than the US to condemn the Turkish attack, and they have suspended arms sales to Turkey as well.
Although the Trump administration aims, as much as possible, to restore the status quo ante, it is starting from a position significantly degraded from what it was just a few days ago, before Wednesday, when the Turkish assault began.
In addition to the humanitarian crisis the attack has caused, Islamic State prisoners have escaped, and the SDF, abandoned by the US, turned to Syria (and behind it Russia) for protection from the Turkish onslaught. In an agreement brokered by Moscow, Syrian forces have moved into some SDF areas.
Moreover, the new measures announced on Monday may not have their intended effect on Turkey. Many Congressmen, including Senate Majority Leader Mitch McConnell, have criticized the measures as insufficient.
Still, Trump warned, "I am fully prepared to swiftly destroy Turkey's economy, if Turkish leaders continue down this dangerous and destructive path."
The flurry of announcements about the latest twist in the US position would have been noteworthy on any day. But Monday was a federal holiday (Columbus Day), and the succession of statements and briefings suggest that US officials recognize the extent of Trump's blunder last Sunday when his discussion with Erdogan paved the way for the Turkish assault.
This latest twist, however, may also reveal Erdogan's blunder. He has long acted as if he could deal with Washington by reaching a personal understanding with Trump and overruling subordinate US officials.
Indeed, Erdogan did reach some form of understanding with Trump. However, it lasted only for a week, and it may prove costly to him in ways that he did not anticipate.
So far, Erdogan's defiance has been popular at home. Early on Monday, before the new US position was revealed, Erdogan called on NATO to support Turkish forces in their plan to occupy the Syrian city of Manbij.
Could he really have expected NATO backing, particularly given the strong criticism France and Germany have expressed? Dr. Aykan Erdemir, a former Turkish parliamentarian and currently a Senior Fellow at the Foundation for Defense of Democracies, thought not.
Erdemir suggested, rather, that it was a "stunt" to appeal to a Turkish public that has become "increasingly skeptical of NATO" under Erdogan's rule. That plays with his base, as an American might put it.
Yet while Erdogan and his government may have been prepared for US sanctions, as that has become a routine part of the American playbook, Monday's announcements included something quite different and, perhaps, unexpected: Trump's cordial exchange with Gen. Mazloum.
Erdogan and his government have put much effort into labeling Mazloum and the YPG as terrorists, but that amicable discussion underscores their failure.
Editing by Karzan Sulaivany