Outgoing Coalition Spokesman leaves Kurdistan with a love for the Kurds
Col. Myles Caggins III, Spokesman for the US-led Coalition against ISIS, on Sunday gave his last press conference in Erbil, after having arrived in Iraq slightly over a year ago, in August 2019.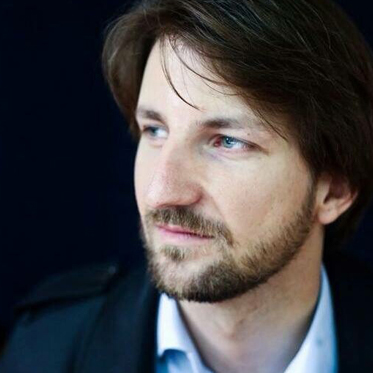 Wladimir van Wilgenburg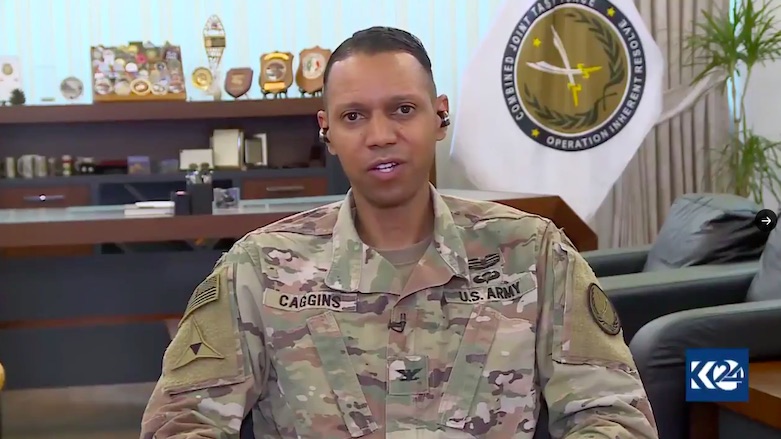 ERBIL (Kurdistan 24) – Col. Myles Caggins III, Spokesman for the US-led Coalition against ISIS, on Sunday gave his last press conference in Erbil, after having arrived in Iraq slightly over a year ago, in August 2019.
"I just have grown to love Kurdish people and Kurdish culture. I will miss everyone," Caggins told Kurdistan 24 in his last interview.
Outgoing @OIRSpox, Myles B. Caggins III, delivers a farewell message during an interview with Kurdistan 24, speaking of his experience in the Kurdistan Region.#TwitterKurds pic.twitter.com/GxzlNY2cIy

— Kurdistan 24 English (@K24English) September 6, 2020
When he arrived in theater, Caggins explained, he noticed that the Coalition tweeted primarily in English, and sometimes in Arabic. "But our audience in this region of Syria and Iraq really speaks three languages," he said. "Arabic, Sorani Kurdish, and Kurmanji Kurdish, and there are even different dialects among the Arabic speakers."
"I've always considered the audience of the people who have been affected by ISIS to be the most important group to reach. So reaching them in their native language was a no-brainer for me. The challenging part was finding volunteers able to help me bridge the gap, language, and people who had high literacy."
Acting on a warrant, on Aug. 20, elite Kurdish Counter-Terrorism Directorate troops captured ISIS sleeper cell terrorists in Erbil. ??@Coalition special ops advisors assisted. Bijî Kurdistan! #DefeatDaesh #TwitterKurds @SOJTFOIR @KRSCPress pic.twitter.com/l6EAVmpuKD

— OIR Spokesman Col. Myles B. Caggins III (@OIRSpox) August 21, 2020
Subsequently, Caggins began to tweet in both Kurdish dialects, and he released Coalition statements in Kurdish with the help of volunteers and local partners. He also established, using Twitter, links to press officials from the Syrian Democratic Forces (SDF), like Mustafa Bali and Kino Gabriel.
Through these contacts, he decided to hold the first joint SDF-Coalition press conference in northern Syria in Nov. 2019. It was this effort that resulted in praise and support from Kurdish security officials.
Read more: Kurdistan 24 Exclusive: US troops continue to fight ISIS but Turkish attacks ongoing
Caggins stressed that the "true champions against ISIS were the Peshmerga, the Iraqi Security Forces, and the Syrian Democratic Forces."
"The Coalition has always been in a supportive role," he told Kurdistan 24. "We have helped our partners who are on the ground doing the fighting with airstrikes, intelligence, and also special operations."
He also noted that the cooperation between the US and Peshmerga dates back to 1991, when a no-fly zone was established in northern Iraq, down to the 36th parallel, following the first Gulf War in order to protect the Kurds of Iraq from the brutalities of Saddam Hussein's regime.
"There are Peshmerga who have protected US troops and Coalition troops, and our relationship goes back before the fight against ISIS," he said. "The US and the Coalition respect the Peshmerga, Zerevani, Asayish and all of the forces in the Kurdistan Region, Rojava (Syrian Kurdistan), because they have proven to be courageous, tough, and lethal against terrorists."
Accompanied by a select group of reporters, including from Kurdistan 24, Caggins flew from Erbil to Syria to visit the SDF for their last joint press conference and also to say farewell to the SDF officials with whom he worked.
"Col. Myles was more than a spokesperson for the Coalition. One of his features was that he was very fond of the local (ethnic) components of the region—with the Kurds, Arabs, and Syriacs, and he was tweeting in their languages," Mustafa Bali, head of the SDF Press Center told Kurdistan 24, after holding a joint press conference with the outgoing Coalition Spokesman.
"The Coalition used to communicate in English only, but for the first time ever, we saw a Spokesperson who spoke to us in our (Kurdish) language," Bali said. "We thank Col. Myles for that. He has been a friend of our region. Many people here [in northern Syria] admire him. We are sad to see him leave, and we would have liked to work together for a longer time."
Faced with many questions by local reporters as to why the US did not do more to stop a Turkish invasion, Caggins was not able to hold back tears during the joint press conference. "I know how difficult that is for you guys. I know how your families were affected by it," he said. But he added that behind these uniforms, "We are people too. We're going to do the best we can do to help the people in this region to have the same type of peace and prosperity as coalition nations."
Apart from his good relations with the SDF, Caggins also established good ties with the Peshmerga forces, visiting Gen. Sirwan Barzani last November at the Gwer-Makhmour front line, after holding his first press conference in Syria
We welcomed @OIRSpox, the spokesperson for Operation Inherent Resolve (OIR) - the 81-member coalition to defeat ISIS, at one of our front line points. We saw in person the territory under peshmerga control. He spoke highly of the role of #Peshmerga in defeating #ISIS. pic.twitter.com/ZQ5sHZtlpd

— Sirwan Barzani (@SirwanBarzani_) November 12, 2019
Caggins did many interviews with local satellite stations in the Kurdistan region, with Kurdistan 24 being the "first network that I spoke to in this region," he said.
Coalition troops in the Erbil airbase are hosted by the Kurdistan Region Security Council (KRSC), and Caggins developed a good relationship with the KRSC director, Shakhawan Miro Lashkri ."I felt home here and treated as a guest," Caggins said about him. Both exchanged parting gifts during a press conference in Erbil on Sunday.
"Col. Myles will surely be missed by myself, my team and people of Kurdistan, and he is always welcome to his second home," Lashkri told Kurdistan 24 on Monday. "From our first meeting, it was evident Col. Myles had a genuine concern for the best interest of our country, in particular the Kurdistan Region."
"Col. Myles successfully utilized international and our local media service to engage and communicate with the people of Kurdistan," Lashkri added. "He made a significant impact across Kurdistan, embracing culture, people and our rich diversity."
Moreover, he noted that Caggins was the first Coalition spokesman to hold a press conference in Kurdistan (in Oct. 2019.)
"I was honored to have had the opportunity to work alongside Col. Myles. His compassion, knowledge, and dedication is commendable. The void will be felt. However, on behalf of my team and the Kurdistan Region, I wish Col. Myles every success in the future, personally and professionally," Lashkri said.
Kurdish officials in both northern Syria and the Kurdistan Region hope that Col. Caggins' successor will continue his legacy with tweets in Kurdish and press conferences in both regions. Caggins has already promised that he would encourage the new Coalition Spokesman, Col. Wayne Marotto, to visit northeast Syria soon. And already on Sunday, Marotto released a short video to introduce himself with some words in Kurdish.
Video message of the new Coalition spokesperson Col. Wayne Marotto in Kurdish pic.twitter.com/9iozJhEcWx

— Wladimir (@vvanwilgenburg) September 7, 2020
Now that his tour of duty has come to an end, Caggins hopes one day to return to the Kurdistan Region as a civilian and visitor. "I've had the most incredible year of my life in this role as Coalition Spokesman," Caggins told Kurdistan 24. "And part of that has been my relationship with the people of Kurdistan and Kurds around the world.
"There are Kurds everywhere," he continued. "And I've learned so much about how to treat people by looking at the example of how Kurds have treated me."
Editing by Laurie Mylroie
(Additional reporting by Gulbakh Bahrami)